UK Cyber Strategy : Landscape Review NAO
The National Audit Office scrutinizes public spending for Parliament and is independent of government.
This landscape review describes government's evolving approach to cyber security and describes the programme of work it has under way.
In this report the National Audit Office describes the U.K.'s national cyber security strategy in some detail looking at both opportunities and threats. It details how the £650 million of investment currently planned over the next three years is being used and aligns with the broader interests of the UK.
Currently there are 15 different government organisations working collaboratively across the public sector to bring focus on four key objectives:
1. To tackle cybercrime and make the UK one of the most secure places in the world to do business.
2. To make the UK more resilient to cyber attack and be better able to protect its interests in cyberspace.
3. To help shape an open, stable and vibrant cyberspace that the UK public can use safely and that supports open societies.
4. To build the U.K.'s crosscutting knowledge, skills and capability to underpin all cyber security objectives.
Behind these objectives there is a balance of opportunities and threats.
In 2011 there were 44 million cyber attacks in the UK that is estimated to have between £18 and £27 billion. 80% of cyber attacks could have been prevented through simple computer and commonsense measures. The value of the U.K.'s Internet based economy in 2010 was over £121 billion representing nearly 8% of the U.K.'s GDP. With nearly 3,000,000,000 people predicted to be using the Internet worldwide by 2016 the opportunities and the risks for the UK economy are clear.
By encouraging greater cooperation between the public and private sectors, the interests of business and the needs of people the cyber strategy in place is geared position the UK at the heart of the developing global digital economy.
---
---
You might also like ...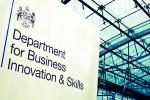 Digital Economy Minister Ed Vaizey has announced a new free online training course to help members of the legal and accountancy professions develop the skills they need to protect themselves and their clients from cyber-attacks.
Developed by government and industry, the on-line training will also enable lawyers and accountants to advise their clients on the cyber risks to their business. This will help UK businesses protect themselves from information breaches and other threats that could potentially cost them millions of pounds.