WEBCAST | Cyber: a review of the market

This Webcast looks at how the cyber insurance market has developed over the past 10 years.  Sarah Hewitt and Matt Hogg discuss how cyber cover can vary, what makes a good policy and what the future may hold.  
Cyber is a growing concern for organisations, with the ever increasing awareness of such incidents and the high profile media coverage that can follow. It can, however, also be an area of confusion for organisations.
Sarah Hewitt, Director in insurance brokers Arthur J. Gallagher's Major Risks Practice and Matthew Hogg, Chair of CRIF (Cyber Risks & Insurance Forum) and Underwriting Manager at Liberty Specialty Markets, discuss the cyber market and risk landscape. Matthew is recognised as one of the leading figures in the UK cyber insurance market and Sarah takes this opportunity to put a series of topical questions to him.
The content of this webinar is for general information purposes only. 
---
You might also like ...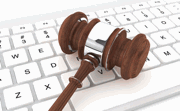 The Right to be Forgotten isn't just a Google issue
When considering data protection, data losses tend to spring to mind. However, this year, the risks of holding data for too long have been at the fore.
The recently publicised "
right to be forgotten
" case saw the European Court of Justice rule that Google Spain was a
data controller
due to its capacity to find, index, store and make information available to the public on its website.