Staples are the latest in a long line of US retailers breached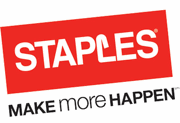 Reports are emerging of another credit card security breach this time concerning the Office supplies firm Staples.
They are the latest in a growing list of familiar retail names to have had their security breached.  The breach came to light following the detection of fraud patterns across the North Eastern United States.
A statement issued by the company has confirmed reports in a statement saying "Staples is in the process of investigating a potential issue involving credit card data and has contacted law enforcement."
The statement added "If Staples discovers an issue, it is important to note that customers are not responsible for any fraudulent activity on their credit cards that is reported on a timely basis."  
Security experts are predicting that this will be another case Point of Sale (PoS) Malware Attack that spreads through the PoS Network usually as the result of software update. 
This breach comes as firms are preparing to update their PoS systems to the EMV standard better known as "Chip and Pin" following
efforts by the White House
 to speed up the adoption of more secure systems across the US. 
Russell Price, Chairman of the CRIF GRS committee said "Magnetic Strip bank and credit cards are 80's technology and should have been retired years ago. Chip and Pin was introduced 10 years ago and can offer higher levels of protection when well implemented.  It comes as no surprise that criminals want to cash in ahead of the shift to EMV cards"
This latest breach will add to the estimated 100 million affected by cyber breaches across the US in the past 12 months.  
You might also like ...
The 10 steps to Cyber Security discusses how cyber security is now one of the biggest challenges economy. Produced jointly by GCHQ, BIS and CPNI it offers guidance for business on how to make the UK's networks more resilient and protect key information assets against cyber threats.
If your organizations hasn't taken steps to protect itself your IT systems may already be compromised with your intellect property compromised and your security breached. This is happening every day to not just one or two, but thousands and you should be asking yourself the question "Are we confident that we are secure?".
It need not be difficult or expensive, roughly 80% of all attacks would be defeated by embedding basic information security practices into your operations.
This report provides an excellent primer on the Risks and measures that can defeat most attacks and focuses on key points of risk management and corporate governance including some case studies based on real events.