Cybercrime - its consequences & how to protect yourself
Price Waterhouse Cooper's (PWC) 2011 report into security breaches noted that 93% of large organisations and 76% of small business have had a security breach in 2011, this is up from 35% of companies overall in 2008.* PWC advised in their report that the average cost to a small business is £15,000 – £20,000 and between £110,000 – £250,000 for a large organisation.
In this White Paper the Oval Group shares its view on the cybercrime challenges facing organizations and how an integrated approach to security management can lever significant insurance protection.
---
---
You might also like ...
Think again, here is one way a smaller businesses was impacted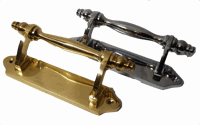 In the early 2000's a husband and wife had the idea to set up a specialist Ironmongery business to meet the needs of the trade and homeowners.    
Over the next few years, the business grew outstripping the first warehouse and by 2010 they had moved into larger premises and had built a professional website that added reach and customers.