CRIF making waves with Chairman Matt Hogg - Powerlist 2016
Leading insurance industry Magazine POST has published its annual Power List for 2016.
Andrew Bailey, CEO of the Financial Conduct Authority, takes top spot with the CEO's of Towergate, AIG, Aviva, Lloyds, Axa and Marsh all featuring in the top 10. Chancellor of the Exchequer, George Osbourne features at number 9. 
CRIF Chairman, Matt Hogg features strongly at 12 beating out many very well known figures from across business and government. Well done Matt and thanks for all your efforts.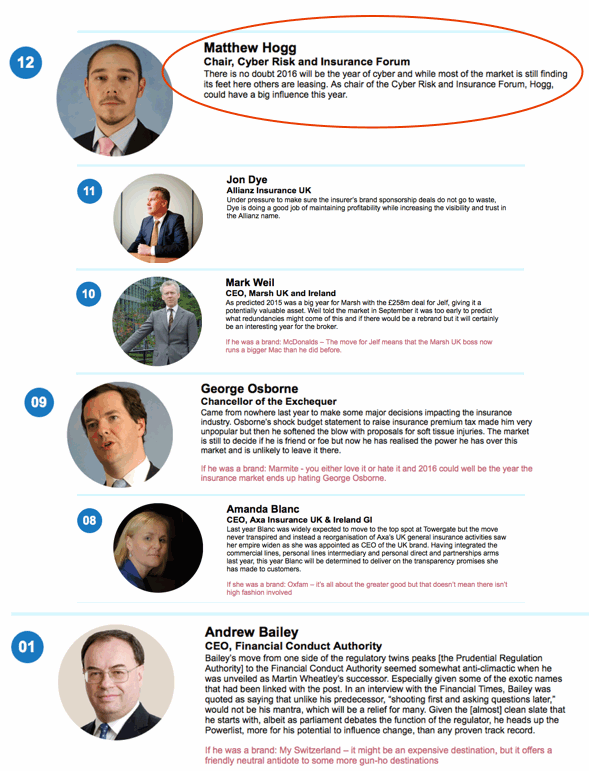 To find out more about our work contact us directly on +44 208 993 1599 or mail us here.    
---
You might also like ...

Cyber Risk

legal update | January 2016
Newsletter | Cyber Insurance, Privacy & Data Security
A milestone has been reached in the world of data protection law.  After three years of detailed discussions political agreement has been reached between the European Commission, Council and Parliament on the final text of the General Data Protection Regulation (the GDPR).
The GDPR will replace the Data Protection Directive 95/46/EC and therefore the UK Data Protection Act 1998 and will be directly applicable in all Member States without the need for implementing legislation.  The legislative process will be complete once the text is formally adopted by Council and Parliament, which expected in the coming months.  The GDPR will come into effect two years from formal adoption and is therefore anticipated to take place in the first half of 2018. Further detail about the key features of the GDPR is provided 
here
.