Colombia: Data Breach and Cyber Risk Insurance | Video

Gabriela Monroy Torres, Partner at DAC Beachcroft in Colombia, looks at the changing data breach and cyber risk insurance landscape in Colombia and the opportunities for insurers.
For more information on our services available from our Colombia office, please visit dacbeachcroft.com/global-coverage/latin-america-lawyers/colombia
Video from the 19th November 2014 Global Cyber Risk Seminar where lawyers from DAC Beachcroft's international offices presented on the changing cyber risk and data security landscape.  
Colombia: Data Breach and Cyber Risk Insurance | DAC Beachcroft from DAC Beachcroft on Vimeo.
---
You might also like ...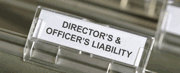 The risk of a cyber attack is material for the majority of businesses in the financial services industry today.
Such attacks are increasingly sophisticated, widespread and disruptive.  
The solitary teenager hacking out of a sense of curiosity has been replaced by criminal gangs seeking improper financial gain.  As a consequence, the financial consequences are increasingly significant.