Beware the risks of outsourcing your IT
"63% of data breaches were attributable to an outsourced third party IT or web services provider"
CRIF founding member Richard Hodson, Head of Technology at Oval Insurance Broking talks in his article about the risks that remain within your organisation even though you have outsourced your IT.
Along with some useful hints provided by CRIF Chairman, Daljitt Barn, on what to look for when researching a suitable outsource provider this article identifies some of the residual elements that still pose a threat to any organisation even though responsibility for running the IT is now with a third party, for example.
· Do you know that you are still responsible for the data even if a breach is caused by a third party?
· Are there any "virtual neighbours" who might be increasing the threat to those around them?
· Is the physical security at the site as advanced as the IT security?
---
You might also like ...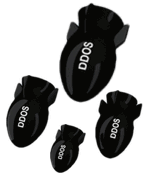 Verisign has published data on the nature and scale of Distributed Denial of Service Attacks (DDoS).
The Trends Report warns that DDos attacks are continuing to grow in terms of size and frequency and that companies lacking expertise and resources to defend themselves are particulalry vulnerable.